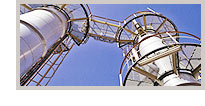 Kirtanlal & Sons was established in the year 1964.

Kirtanlal & Sons represent leading specialty steel producers as their sales arm for Indian market. We have been serving India's leading EPC Contractors, Fabricators and Processors for Oil / Gas, Power, Chemical / Fertilizer, Nuclear and Water-Treatment projects.

Time bound deliveries of fully certified products, shipped directly from integrated steel producers is the strong point of our business. We have developed a close relationship with Indian users and processors of S/S and exotic Nickel Alloy sheets, plates, pipes, tubes and bars. Leading integrated Specialty Steel producers in the world have trusted Kirtanlal & Sons, as their official sales arm for Indian market for last several decades.

We offer the advantage to the bulk users the facility of direct purchases from integrated producers. All the sales are invoiced by our principals / producing mills to the final importers.

The producers we represent are global leaders in their respective field having a niche market for their products in India and worldwide. Their capabilities meet stringent technical requirements and difficult purchasing conditions of project operators, PMCs, EPC Contractors and Fabricators.

Supplying stringent specifications; exotic alloys and difficult-to-produce dimensions is a niche of our principals. The producing mills have approvals from major users worldwide and also extensive approvals within India from Oil/gas/power majors like EIL, ONGC, RIL, IOCL, OIL, Mecon, Jacobs, Toyo, PDIL, NPCIL, NTPC, BHEL etc.

With representative offices in different cities in India, we are able to serve our clients across the country.

The details of our principals, their product capabilities and their worldwide references are available for prospective clients.